Welcome!
Those of you who know me are familiar with my half-assed blogging attempts, my half-assed Twitter attempts, and my half-assed Facebook attempts. (For a woman with a very ample ass in person, my online presence is a bit of a paradox.)

So, no more excuses.
I left my job at Maine Writers & Publishers Alliance last year to establish myself as an artist, not just an administrator. In that time, my work has appeared in The New York Times, Salon, and Down East magazine. My first novel was published in April, and I'm currently researching a book on the topic of Russian mail order brides. (The largest introduction service for Russian women is headquartered in Maine. Bet you didn't know that fact.)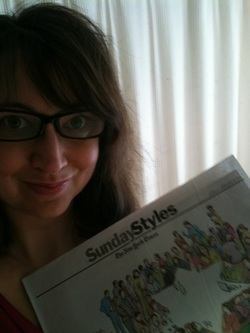 If it's easier in photos, here is me with the Sunday Section when my Modern Love essay was published. This was in January, and since that time, my professional life has been an equal mix of delightful and disappointing. I'm building credits though, and for a person who has spent a professional lifetime helping other writers succeed, the forward motion feels amazing!
This blog will be an extension of that process: the good, the bad, and the middle bits in between.
(For those wanting to search back into my original attempts at blog-keeping, look at
this link
.)