One of the many aspects of my career is the coaching aspect. I work with writers and other artists, emerging and established, and help them find clarity and purpose for their words. I include elements of life coaching in this process, and I boast a client base that is 100% satisfied with the results I help achieve.

Part of this coaching process is finding balance, and that involves figuring out what is working and what needs a shot of change.

To that end, I offer this tool.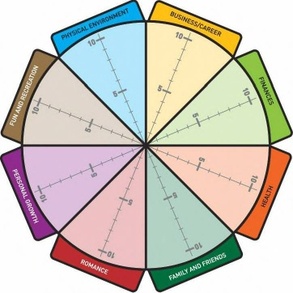 It's a standard balance wheel, and it includes categories that create a well-rounded and satisfying sense of existence. (Personal Growth, Fun & Recreation, Physical Environment, Business/Career, Finances, Health, Family & Friends, and Romance)

Print it out. (Don't be all "It's cool, I can just visualize" because you miss the point.) Print it out or draw one on a piece of paper, and then mark your satisfaction levels in each category on a scale of 1-10.

This visual rendering of your happiness is a fantastic tool to identify areas in life that are working effectively, as well as areas needing attention. It also helps sort things into a manageable plan when you are ready to make changes. It shows that balance is relative, and if you work to improve one category (say, Finances), it might decrease other categories (say, Family & Friends).

Plus, when you draw the circle around the categories, it's illuminating. We would never expect an uneven tire wheel to turn efficiently, but we often expect our lives to be efficient without the exact same sense of balance.