One of the nicest things people say to me is that my observations feel like kitchen conversations. I always imagine sitting at my cluttered little table with a cup of something hot and a plate of something delicious between old friends.

With that in mind, I started thinking about a project for my 38th birthday. (For 37, I chronicled 365 days on Facebook. Each day I noted a position of strength, and these included publication credits, the birth of my nephew, a new dress, and a road trip to Nashville. On particularly gruesome days, I noted the pleasure of basic hygiene or the taste of bacon. I encourage people to note the strength in their lives as a regular practice. It can be illuminating, and the discipline to do something for 365 consecutive days is good. It can lead to discipline in other aspects of life, I promise.)

For 38, I plan to combine this blog's professional advice with my love of cooking and my unyielding Maine identity. (See above: kitchen conversations.) For those of you with connections to the state, you may be familiar with Marjorie Standish. She is, in a phrase, Maine's Julia Child. Her Cooking Down East is a staple in Maine kitchens, and I remember my mother's handwritten Marjorie Standish recipes on little pink index cards in a metal recipe box. Molasses doughnuts. Clam chowder. Tomato aspic. (Ass-pick. It's true.) Iconic, homestyle food prepared with little fuss and pretention, all accompanied by Marjorie Standish's reflections and occasional moralizing. I loved thumbing through those recipe cards, and I loved it even more when Trav's Aunt Arvilla gave us the cook books on our wedding day ten years ago.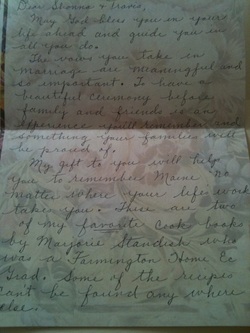 It's hard to read, but she wrote "My gift to you will help you to remember Maine no matter where your life's work takes you."

So for this, my 38th year, I will cook my way through my stained and dog-eared copy of the original Cooking Down East. (With apologies to the publisher, but not the new version of the book. While I appreciate the publisher's offerings, to include my own little novel, Marjorie Standish is an icon that needs no embellishment and to modernize her world view is, in my opinion, a small heresy.)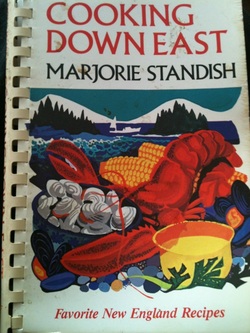 With that, I invite you all into my cluttered virtual kitchen. Welcome to a year of irregular updates as I attempt to cook my way through a significant portion of Marjorie Standish's legacy--along with thoughts on writing, publishing, life advice, and anything else that might interest me that particular morning.

With much love from Aunt Arvilla.