When you live in Vacationland, you get summer company. It's a fact. I suspect it's the same for residents of Hawaii or Paris, too. Family and friends seek you out during summer breaks in a way that is noticably absent in the cold, desolate winter months.

I don't mind. I love company and the energy it brings into my home. As long as company can handle my low housekeeping standards without judgment, they are most welcome!

Marjorie Standish welcomed company, too.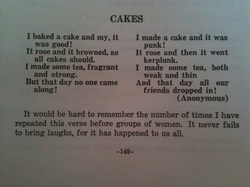 I have lots of thoughts on women's roles, and the weird seeking out of shared miseries that happens among women, but mostly I will note that Marjorie strikes me as an excellent housekeeper. Because she was a Home Economics expert, I have a difficult time imagining her cakes going kerplunk, but I can easily imagine her as a charming hostess in spite of the situation.

While my cakes rarely go flat, I am a terrible housekeeper. My tolerance for filth is immense, and I would much rather spend my time in activities that do not involve cleaning sprays.

That said, company season is upon me, and I've had to divert attention away from online reflection and toward other things. I wish I could say those other things included a sparkling toilet and freshly washed curtains, but no.

I've been spending the past couple weeks with people I care about, doing things I enjoy. That, I suspect, is the underlying message in Marjorie's poem. Cake or no cake, things will go wrong. The important piece is that friends will arrive regardless, and the best friends don't care if the tea is weak.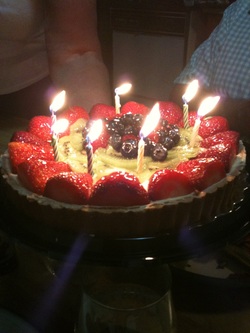 My favorite place to buy lobster, pre-cooked is Three Sons. Like takeout, but whole lobsters! As their T-shirts note, 'The cheapest tail in town.'
In the past couple weeks, I watched a movie with my husband (Midnight in Paris). I enjoyed several birthday cakes, introduced my dear friends to some of Portland's best food (
Miyake
,
The Chocolate Bar
,
Becky's Diner
, husk cherries at the farmer's market, and Three Sons Lobster), discovered an old cocktail standard (
French 75
), renewed my driver's license, bought new pillowcases, and sat quietly in the quickly fading Maine summer season.
So here is my challenge. Stop putting energy into pockets that are meaningless for you. Put energy toward things you value. Take a lesson from Marjorie Standish, even if it's a veiled one, and know that company will come regardless of good cake and strong tea.