Happy birthday to me! Happy birthday to me!
Banana bread. It is one of the most loved recipes in my book. (Note the crusty stains on the page.) It's a comfort food that freezes well and translates to funerals, housewarmings, potluck suppers, and baby showers with ease.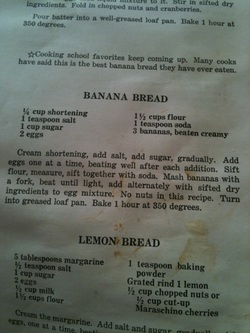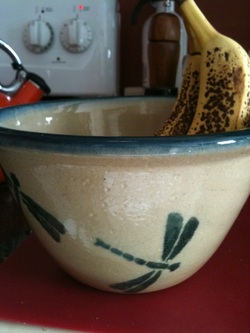 It is also very, very easy. My professional baker friends will laugh at me, but I'm a fan of one-bowl recipes. Electric mixers confuse me, and I'd much rather rinse off a spoon than sort out where the attachments go. Plus, it's authentic. A bowl, a spoon (in this case a fork), and a pan.
Isn't the bowl pretty? I have an intense love of all things
Monroe Salt Works
, and this bowl was a gift from my friend Anne. She came for a visit, and we spent a rainy afternoon in the Old Port where she bought me this beautiful present.
(We also spent a rainy afternoon in London once, but that is a story for another recipe.)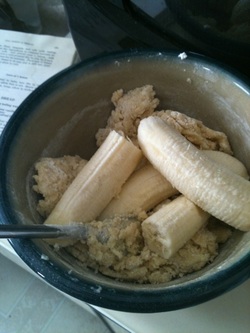 All the ingredients go into a bowl (flour, baking soda, sugar, eggs, butter instead of shortening, and mushy bananas), and yes, Martha Stewart would cringe at my methods. Just sort of put rough amounts in a bowl and mash it all together with a big fork. That's the beauty of improvised home cooking--it usually works out in the end.

Then pour into a greased pan. I used Pam, but I'm not sure that was an option for Marjorie Standish. (Fun fact: aerosal oil sprays were patented in 1957.) As a little girl, I would grease pans with the back side of the margarine stick paper-or the actual margarine stick itself.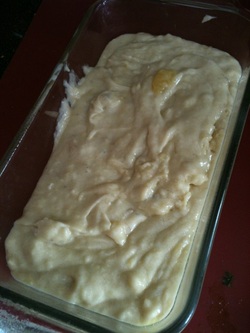 Bake at 350 degrees for an hour.
Now come sit with me for a little bit. What food do you remember from your childhood?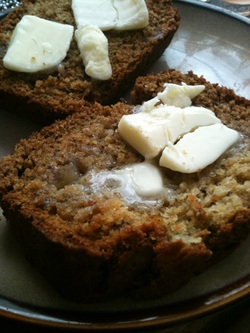 Challenge: Re-visit a recipe from your youth.