Rhubarb. Remember rhubarb? As a kid, I would chew the stalks. Raw, or coated in sugar. It was always a big dilemma when wandering in fields or backyards: is that a rhubarb or a burdock patch?
(Remember burdocks? Nature's Velcro. So much fun to chuck, but very ouchy to pull from clothing, skin or hair.)
I love rhubarb. I especially love rhubarb in the form of a daquiri, as served at Westbrook's
Frog and Turtle
, but, sadly, Marjorie Standish did not create a recipe for rhubarb daquiris.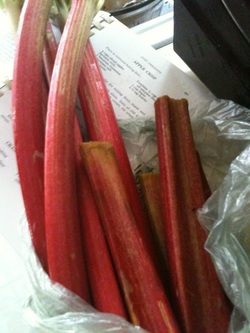 Marjorie does have a recipe for rhubarb crisp, and since rhubarb season is almost over, I chose this recipe as a tribute to the bittersweet experience that is Maine summer.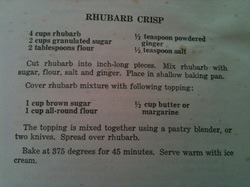 She calls for four cups of rhubarb, but that always seemed like too little, so I just go with pan size. Fill up the pan with rhubarb, cut into chunks.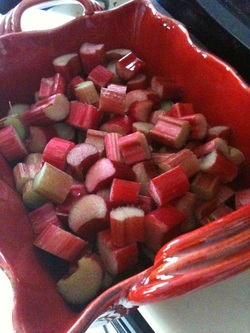 I like rhubarb tart, so I use half as much sugar (one cup instead of two), a few spoonfuls of flour, and a few shakes of ground ginger. Nevermind with a separate bowl, just mix it around with a fork or fingers to coat.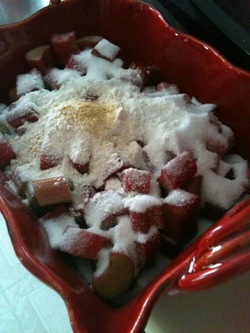 Also, I am not a professional cook, but here is my fun cooking trick. When making a pastry, biscuit, or topping that calls for cutting flour into butter, just use a box grater or Microplane.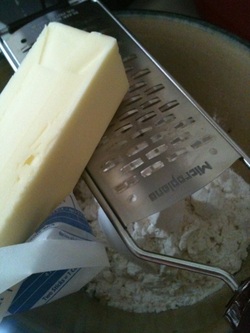 See? Then you can just smoosh it around with a fork, and voila! Instant topping. No need to dirty a pastry cutter.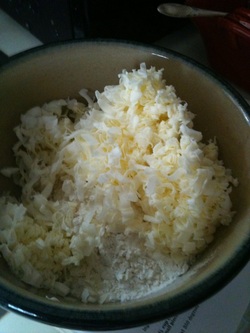 Spoon it on top, and pop in a 375 degree oven.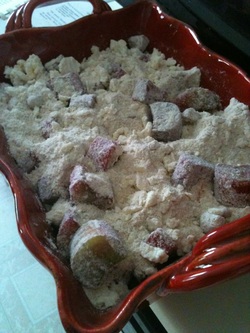 As my yearlong sabbatical nears its end, and I begin my job search in earnest, rhubarb crisp is a good professional metaphor. Some days are just too sour to be palatable, and some days are too sweet to trust. But with the right mix and a little patience, some days turn out just right.