I know most of the arguments, and the one that most personally resonates is "pigs are as smart as dogs." It's a flawed argument and especially evident with my Australian Shepherd, Tobie. Tobie is blessed with talents that include warming my feet on the couch while I read and a primal (pathological?) mission to prevent the mail man from doing harm to our home, but he was not blessed with brains. If he was blessed with brains, he would easily distinguish between his food dish and the litter box.

That said, some animals do just fine without brains.

Back to Bacon.
I wish bacon wasn't made from pig. My husband and I once had a philosophical discussion about Eve's apple not really being an apple. "What if," we hypothesized, "it wasn't fruit that God forbid, but meat?" That honestly makes more sense, if you think about it.

So, bacon. It's crispy. It's delicious. It comes in maple and pepper varieties. I love bacon. I love bacon so much, I pretend it isn't really pig. Bacon is, and I credit my friend Cynthia for the phrase, but bacon is my comfort meat.

Bacon makes things better.
Marjorie Standish knew this. That's why she advocated for Baconized Corn Bread.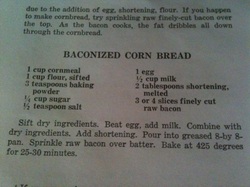 It's a pretty standard corn bread recipe. You mix it all up in a single bowl.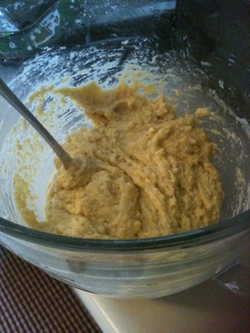 But the magic happens when you sprinkle bacon on top of the batter! Marjorie said to just use raw chunks, but I cooked the bacon first. I cooked it, as Marjorie would note, "short." It was still gooey, but I rationalized that in the 20-25 minute baking time, it would crisp up just fine.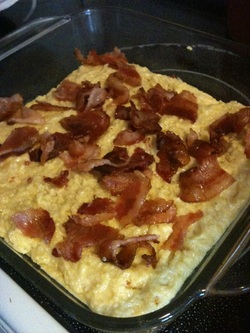 And I was right! Crispy, delicious bacon cooked in cornbread! It was amazing, and next time, I'll just use the raw bacon. (Reminder: trust Marjorie. She had no interest in poisoning her readers.)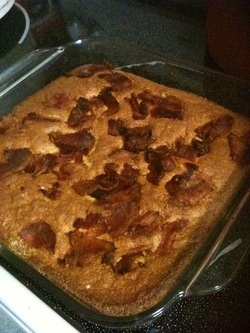 See how delicious this is? Moist, crumbly corn bread topped with bacon and spread with butter! So, so good.