For grammar geeks, I checked. It's crab apples, not crabapples. Two words.

However you spell them, it's now the season! During a visit home to Aroostook County last weekend, I was able to score an enormous bag full, intent on making Marjorie's crab apple pickles. She calls them Spiced Crab Apples, but it's the same thing.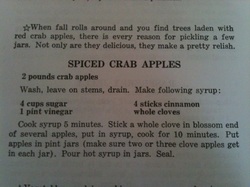 I wrote about crab apple pickles last December for Down East magazine, and
you can read about the experience here
.
As an aside, this essay was the first time I'd received hate mail in relation to something I'd written. A cousin took issue with how I remembered our shared grandmother, and then flat-out called me a liar. Not to me directly, to my publisher. This cousin was grieving and needed to see our grandmother through the lens of a single person's experience. I was reassured that it's normal, and I recalled the old fable about five blind men each feeling a different part of an elephant. We all have our memories, and we all believe ours is the perspective that is most true.
That said, writers have a responsibility. Call it kharma or the golden rule or simple decency: be kind. Be truthful, but be kind. Readers are not stupid. If you write with a vengeance or mean spirit, readers will pay more attention to the vitriol and less attention to your words. Likewise, if your subjects are as simple and one-dimensional as those old spaghetti Westerns with white and black hats, that's not good either. And most importantly, people generally don't ask to be written about. That's a lesson I learned the hard way, so please be kind.
But anyway, I digress. Crab Apples look like this: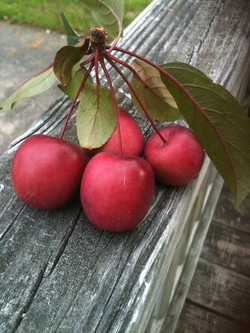 A colander full of them looks like this: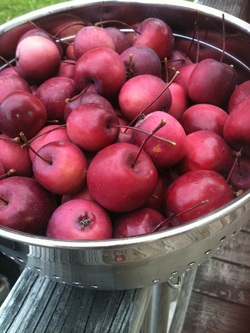 Contrary to some folklore, they aren't poisonous. They won't make you sick, but I challenge you to eat one straight. It's a bitter taste that stretches miles beyond sour, and this recipe calls for four full cups of sugar to temper the taste.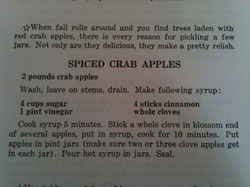 Stick the cloves into the blossom end. Like this: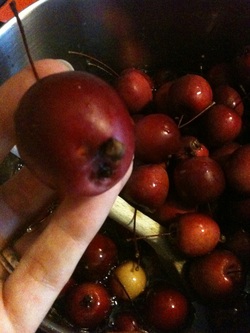 Sugar, vinegar, cinnamon sticks in the pot. Cook and add apples. After ten minutes, place apples in jars and pour the syrup over the apples. Caps on, a little hot water bath to seal, and the end result is a spicy, sweet, sour little taste of wonderful.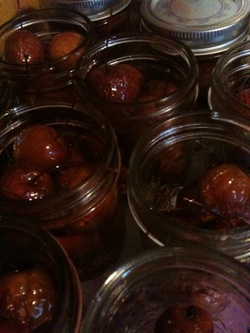 Or, as a friend once noted, "It's like Christmas in a single bite."

Indeed.

Challenge: Pick a character from your project. Choose a character you love or hate. (It's important that your character be extreme.) Now try this. If your character is good, make him do something vile. If your character is evil, write a redemptive quality. It works for nonfiction, too. Find a compassionate moment for your evil stepmother, or note a morally questionable decision made by your saintly grandfather. Notice how vivid your writing becomes when you explore these depths. Notice how much more engaged your readers become when they must decide for themselves who wears the white hat and who wears the black.