I'm a fan of improvisation, and all things being equal, I do very well with the punt. That's one reason why I love, love, love Marjorie Standish recipes. She offers up a basic guide that's open to many, many interpretations.

For instance, this simple recipe for clam cakes. It involves two cups of clams, 1.5 cups of cracker crumbs, and two eggs. Easy peasy and delicious.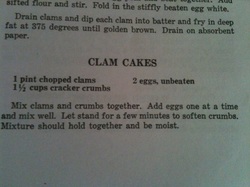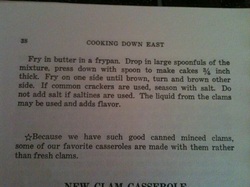 As you can read, it's a pretty basic concept. Mix, spoon into hot pan, cook, enjoy!
That said, clams are expensive and time-consuming to steam, shuck, and chop. (Yes, canned clams are an option, but they really don't taste much like fresh clams.)
So, today I bought fresh haddock for $4.99 per pound at
Free Range Fish and Lobster
on Commercial Street, intending to substitute fish for clams. (I also dropped a dollar in the Wharf Kitty Rescue Fund tin at the cash register counter. If you go, you should drop a dollar in the tin, too. Wharf kitties need love.)
The recipe is simple and delicious, just like Marjorie's recollections.
But back to the haddock. Haddock is cheaper and easier to prepare than fresh clams, and fish cakes taste just as delicious. I steamed approximately one pound of fresh haddock.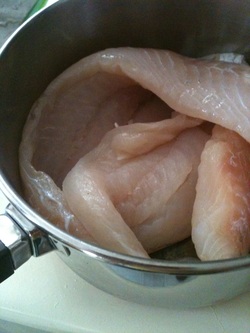 The fish is done when it flakes with a fork. It is way, way over-cooked if you start to smell it in your kitchen.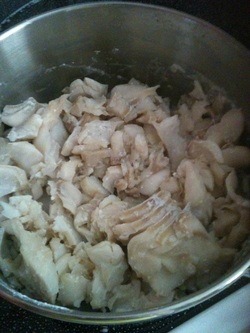 Empty a sleeve of crackers, any kind, into a plastic bag and crush with a rolling pin, wine bottle, cup, or your palm. Add them to the fish, along with two eggs. Mix together until the cracker crumbs are combined, and the mixture is firm but moist.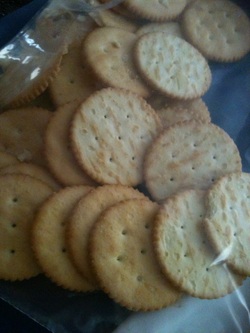 Marjorie just spoons the mixture into a hot oiled pan and flattens them, but I prefer to pre-shape the patties. (They can be refrigerated, too, to get the mixture more solid.)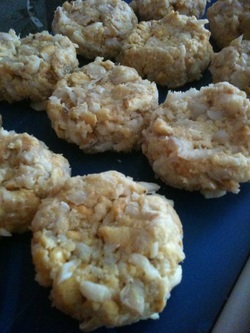 Oil into pan (Marjorie uses butter, but I like the olive oil I buy at
LeRoux Kitchen
. The nice thing about LeRoux is that you can sample the oils and vinegars before you buy!), patties into pan once the oil is hot. A little salt and pepper, flip when golden and crispy, and then drain on a paper towel.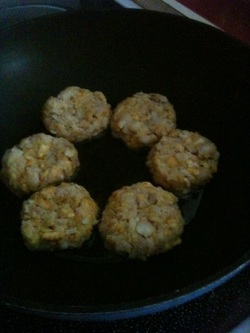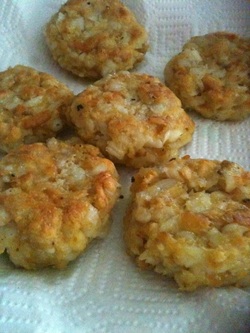 Et voila! Rainbow chard, clam cakes made with fish, and a dab of mayonnaise to serve alongside. End of summer abundance.

Challenge: Find something familiar and trusted in the form of a chapter, poem, vegetable, or recipe and make one significant change in how you approach it.