I'm told the origin of this potato candy dates back to an 1872 evangelical minister, a come-to-Jesus revival-type event, and a Portland candy shop in the midst of developing a new product. I'm told the candy shop owner, swept up in the euphoria, named the candy in honor of this traveling minister.

Since Marjorie never mentioned anything about an evangelical revival, I won't either. It seems wrong to associate the two things. One is a decadent confection calling for two full pounds of powdered sugar and fruit native to tropical islands and naked people--all the while making particularly inventive use of Maine mashed potatoes. And the other? Well, it's an evangelical revival. I'm all for people inviting the latter into their own kitchens, but I prefer to limit my personal kitchen to the former.

So Needhams. Potato candy. They embody the Maine libertarian spirit of contrast, good living, and eclectic improvisation.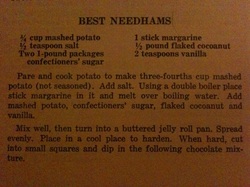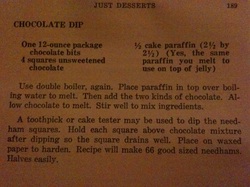 My grandmother used to buy these candies by the boxful, and every time I see them on the shelves at Reny's, I think of her. (Every time I see cans of chicken bone candy and Canada mints, too, but those are entirely different stories that I'll tell another time.) As often as I ate them from the box at her house, or from the Seavey orange and blue waxed paper wrappers in the candy aisle, I never thought to make them from scratch.

Needhams are remarkably easy, but it's not an intuitive process. Melt a stick of butter. Add 3/4 cup of mashed potato. Then dump two pounds of powdered sugar and half pound of coconut into the pan, so it sort of looks like this: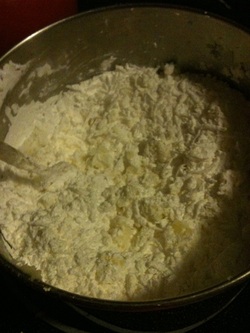 It will seem like not enough fluid. It will seem that way, and you may find yourself stirring the pan until your arm aches, trying to incorporate the butter into way too much sugar. As your arm is about to fall off, you may read and re-read the recipe, wondering if there was a mistake. Take heart though. Marjorie knows what she's writing about. Be patient, and keep stirring and mashing it all together.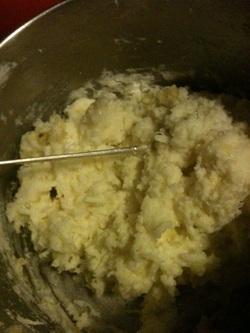 Eventually, it works, and you can spread it into a greased pan.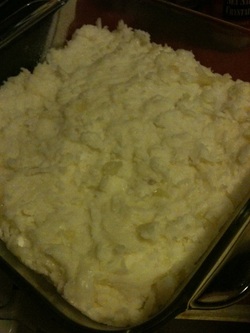 Now, here's the part where I cheated. I'm not opposed to melting paraffin into chocolate. Not at all. I just did not have any in my cupboard. I did not have the paraffin, and I was hungry. So, I melted chocolate chips in the microwave and rather than cut each Needham into squares and dunk individually, I just spread the melted chocolate on top.

Into the fridge to cool. And while my approximation isn't the individually dunked piece of Maine nostalgia that is a proper Needham, it is a delicious treat.

See?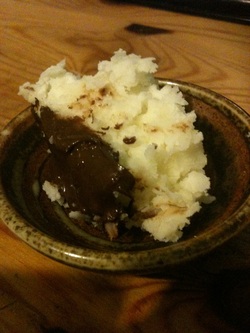 Challenge: Remember a food from your childhood and describe it in concrete prose with no abstractions. What made it special? What memories do you associate with it? Once you have written about it, seek it out. Locate it or create it. Is the power of the experience in the food itself or with your associations?