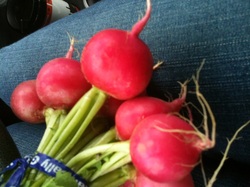 It's not a Marjorie Standish recipe, but these radishes are too exquisite not to celebrate.

I've been reading food writing lately. Not just New York Times restaurant reviews, but memoirs and essays and collections of work from people whose business is to really, really appreciate food. In fact, I just yesterday finished Blood, Bones, and Butter by Gabrielle Hamilton, and I now have an urge to, maybe just once, taste rabbit. This summer, I read a booklength quest to sample foods mentioned in Mark Twain's writing that included (I am not making this up) a trip to an annual raccoon eating festival. I read Julia Child's personal letters to her best friend, discussing the intricate nature of egg poaching. I listened to Anthony Bourdain navigate his way through remote Asian soups. I have been absorbing descriptions of foods I will probably never experience, and throughout this experience, it became so very clear that good writing is good writing--no matter the topic.

Take adjectives. Specifically, take adjectives in relation to the radishes I purchased at the Farmer's Market in Monument Square. How many ways are there to describe a radish? Red, obviously. But it's not just red, it's more of a pinkish red. Sunset? Candy? Like a button on a machine that I am forbidden to touch? Red like the lit end of a Malboro? Or red like Waikiki twilight?

And that's just the color, never mind the taste. These radishes, organically grown, taste subtle. But subtle like just a pinch of pepper added to a bowl of soup? Or subtle like black leather boots with an otherwise conservative outfit? The radishes were crunchy, too. Super-crunchy. Super like the man?

Descriptions can make or break a piece of writing. The right ones can transport a reader on the exact road for the exact journey a writer intends. The wrong ones can leave a reader confused, lost, and wondering where the piece is headed.

Here's how I would describe my radishes. Red, subtle, and super-crunchy, yes. But these radishes were simultaneously artful and simple in a salad mix of tender baby chard and crisp romaine lettuce, dressed with balsamic and mustard with olive oil and a dollop of honey to offset the bitter. The greens were a mix of tender and crisp, and the radishes elevated the experience to a texture crescendo. When I finished my bowl, I ate more.

Luckily, Trav and I also had Scotch Oatmeal bread from The Baker's Bench in Westbrook. When I asked him about the many ways to describe food, he was eating a slice of this bread. I asked him to tell me about the bread.

"This bread is so good," he said, "it would be a sin for a mom to cut the crusts off."

Description doesn't have to be fancy. It just has to be right.

Challenge: Describe a food in your pantry, but describe it without using any words that end in -ly.