I had lunch with a friend this week. We hadn't spoken since Travis and I were planning our big Nashville adventure. "What happened with that?" she asked, and I didn't have an immediate answer because, basically, we just changed our minds.

I was offered a terrific position there. (Hi Larry! Many, many thanks!) But in the end? The culture wasn't an immediate fit. The culture was not a fit, and Travis realized he could build his business on the east coast on his own merit and terms, while still sleeping in his bed each night. When you are a professional musician, that's a rare asset. If we went to Nashville, he'd be dependent upon the potential for a random stranger to "discover" him, and that felt wrong.

There was also the real estate thing. This was, I think, when we knew for sure that Nashville wasn't a match. We met with a real estate agent to learn about neighborhoods. We introduced ourselves as friendly, left-leaning, artistic folks who valued a pedestrian and dog-friendly neighborhood, preferably near a college or library of some sort. Schools and playgrounds weren't important to us, and since we very much appreciated traditionally gay districts in other major cities (DC's Dupont Circle, the Castro in San Francisco, the Village in NYC), could we please start looking there.

The reaction (and I swear I was not trying to be an ass) was precious. She plugged her ears and told us that she was going to pretend we didn't ask that. She told us we were in the south now, that Nashville didn't have a gay district, and then she discarded half of the printed listings in her lap. She crumpled them into the trash can. "You wouldn't like these areas," she said. "These are for families."

It was just the "fuck you" we needed, and it made the decision to change our minds so much easier.

I reference this story to note that it's okay to change your mind. Some of the best decisions in life involve last minute switches in direction. Like my Marjorie Project.

I'd initially imagined a year of cooking through her most unusual recipes (Tomato Aspic? Shrimp Wriggle?), but I find myself averse to her many recipes that call for a can of cream of mushroom soup or a packet of gelatin or a jar of Cheez Whiz. I find myself averse and seeking something familar. Recipes I know and love, that yield comforting and traditional foods.

That's today's project. Cherried cranberries. It's not cabbage and Sterno, but it's good, and it feels like home.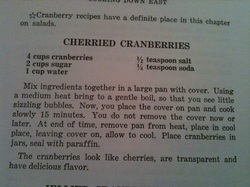 What is different about Marjorie's recipe and a traditional cranberry sauce? Near as I can figure, baking soda and covering the pan. This pan-covering causes the cranberries to puff up and expand, and rather than gel into a sauce with split berries, the berries stand on their own. It's really just cranberries though.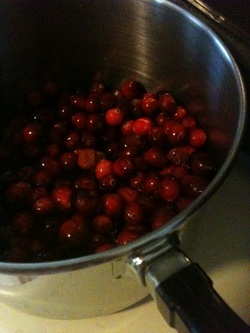 Then into a pan with sugar, water, and soda.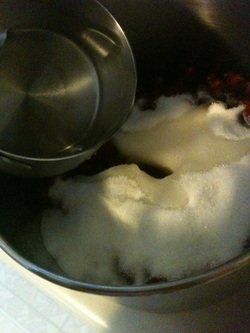 Bring to boil, reduce to simmer, and then cover for 15 minutes.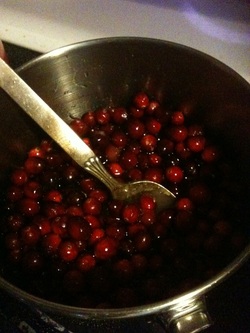 And then it's done. Super easy! The result is lovely.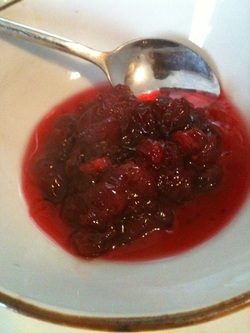 Challenge: Think of a time you changed your mind. Was it a good decision? What would be different now if you had not made that decision?