"You are so lucky." This is what people tell me when they hear my husband perform.

While I do consider myself extraordinarily lucky, it's not because of Trav's voice. If my husband suddenly lost all vocal ability, it would have zero impact on my feelings for him, so I always have a moment of disconnect when people hear his music and comment on my luck.

My sense is that in addition to the good fortune of being married to a talented performer, they also mean I am lucky to be immortalized in song. At least, I think this is the bigger intention. People want talents recognized, and Travis occasionally notes mine in verse.

For instance, my pumpkin pie. It is Marjorie's recipe, and it is the best recipe for pumpkin pie I've ever encountered. Why is it the best? Because she uses ingredients that are easy and usually on hand. There's no sweetened condensed milk (nasty, gooey, spoiled-looking stuff), special pumpkin pie spice or complicated directions. Ingredients into a bowl, mix, pour, and bake into a rich custard that tastes precisely like autumn in New England.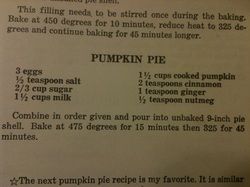 I like to use my favorite pie plate, a Monroe Salt Works classic. It was a gift from my mother, and it is one of the nicest things in my kitchen. Isn't it pretty? It's very Maine.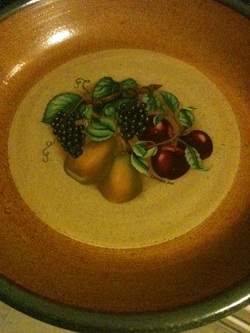 Sadly, the grocery store was out of One Pie pumpkin, so I substituted Libby's.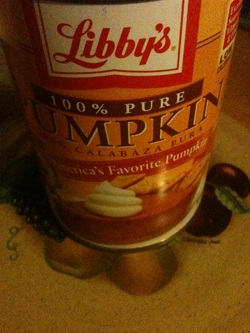 Mix it all up, pour into an unbaked pie shell.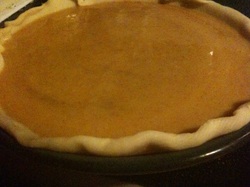 And then into the oven. Here's the trick to a good custard-style pie: high heat first, then low heat. Pie goes into a 475 degree oven for 15 minutes to puff up and set, and then the heat is reduced to 325 for another hour to bake.

The end result is perfect pumpkin pie.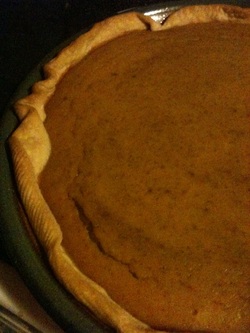 So perfect,
some songwriter
might even be inspired to write a lyric about it. Here is a link to the song in
CDBaby
, and again in
iTunes.


Challenge:
Have you ever written a song? Try it. What sort of experiences would inspire a song for you? What are some of your favorite songs and why?