The world is not a perfect place, and pumpkin pies don't always turn out right.
My friend Jessica (author of
365 Days of Change
) posted about her attempt to make Marjorie's pumpkin pie, and this was equal parts flattering and and exciting. "Someone actually reads this blog!" I thought. As I noted her subsequent pie updates, they became more and more distressed. The pumpkin pie process failed, she needed advice, and she was blaming fractions.
Sometimes, things go wrong. In the kitchen, in life, everywhere. For instance, I just spent $625 on a new muffler. Unexpected, shocking, and definitely not how I planned to spend an afternoon. But, it happens. It's just a muffler, just money--and it's just a pie.
Pies, at least, can be re-done. So, today I'm revisiting the pie-making experience. I encourage revision among my students, and I encourage it in the kitchen. If something goes wrong, I think the best approach is to ask questions, obtain feedback, and try again.
So, here we go. In more detail this time. If you have questions, please ask!
First, three eggs into a bowl.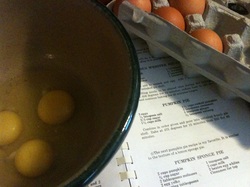 Next, some sugar. Find the 1/3 cup measuring scoop.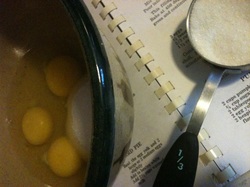 Now is time for the milk. This is where Jess says the process went awry. I suggest a Pyrex measuring cup. 1 and 1/2 cups of milk. (This can, in a pinch, be reduced to 1 cup, but it will yield a smaller pie.)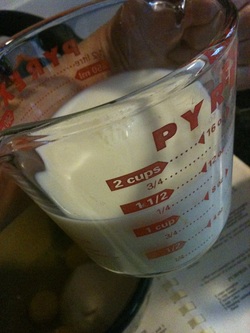 Mix it all up with a fork. See how nice and foamy it looks?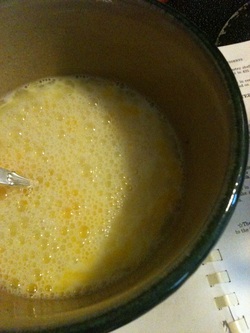 Pumpkin into bowl, a single can's worth.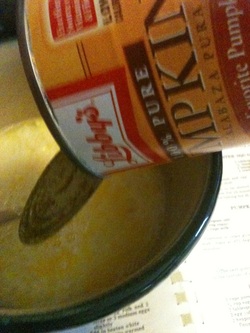 I eyeball spice amounts because I've made this pie a million times, and I just have a sense of how I like it to taste. You can eyeball it, too. More cinnamon, less nutmeg, less ginger. I just shake a bunch of those spices into the batter. You can't mess it up. More spices will taste more spicy, fewer will taste more pumpin-y. Win-win!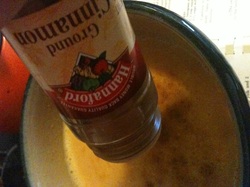 Stir it all together, and then pour into a prepared (uncooked) pie crust.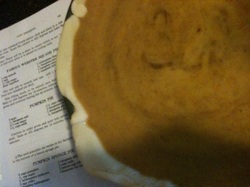 This is the piece where the pie typically fails. It's very important to have the oven pre-heated to 475.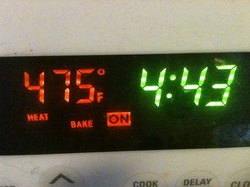 Pie into the oven, and fifteen minutes later, set the oven to 325. An hour later, you'll have something like this.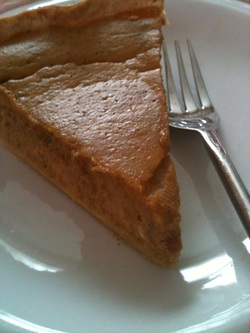 Jess maintains that she measured the milk incorrectly. Again, it happens. Measurements get wrong, substitutions don't work, ovens fail, ingredients get forgotten, and sometimes nothing comes out right no matter how precisely a recipe is followed.

This is baking, this is writing, and this is life. Get back in the kitchen, back to the pages, and up off the couch.

Challenge: Re-visit a failure. A recipe, a chapter, a poem, or any household project that was an epic fail. Tackle it now with new eyes and a new perspective.