It is the season of comfort food, and one of my favorite comfort foods is chicken stew with dumplings. Marjorie prefers lamb stew with her dumplings, so I'm improvising. Dumplings are surprisingly easy.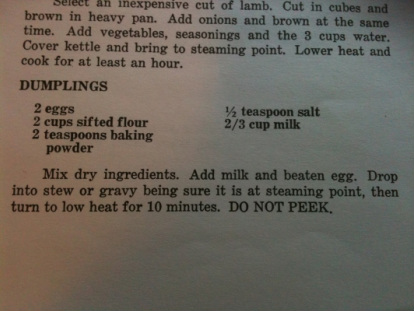 Mix everything up in a bowl, and don't forget the baking powder. I typically buy the cheapest generic baking powder, but I noticed this brand while I was shopping, and it was one of those memory zingers. I remembered this jar in my mother's cupboard when I was a little girl, so I bought it for the nostalgia factor.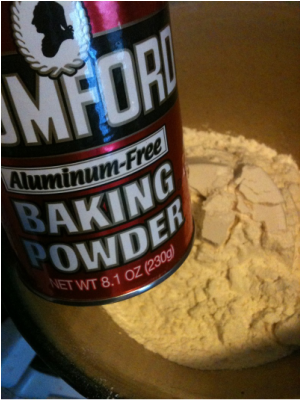 Mix everything into a spongy batter.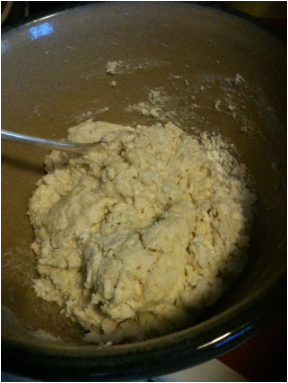 Then spoon up a little glob of batter, and plop it into a pot of simmering stew. I made chicken stew, but that's a different recipe, not from Marjorie. Basically, just make your stew until it boils, lower the heat, and it's ready for the dumpling batter.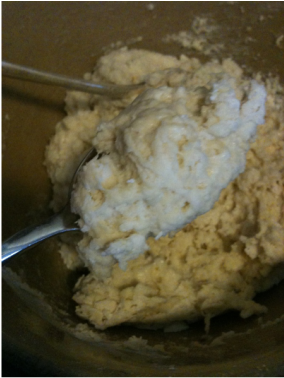 The process looks a little icky, to be honest. The batter should be plopped into the stew in spoon sizes, but the dumplings will expand and nudge together during the cooking process.

Like this.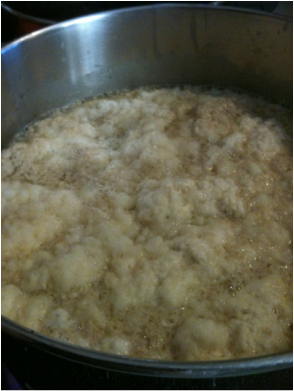 Cover the pan, and this is super important: Don't take the cover off. (The cover creates the steam that helps plump and cook the dumplings.) Marjorie is pretty direct: DO NOT PEEK, and although hers was an era void of text-speak-even back then, you can see the impact of ALL CAPS.

The finished dumplings look like this. Mmmm. Comfort food.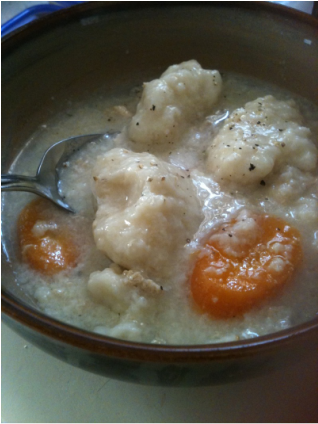 Challenge: What product, song, or scent triggers a childhood memory? Tell me why.