People make things unnecessarily complicated, when it often is a much simpler process. I am not sure why this is, but it appears to be a pretty universal trait. Marjorie Standish understood simplicity. For instance, chicken. Here is her recipe.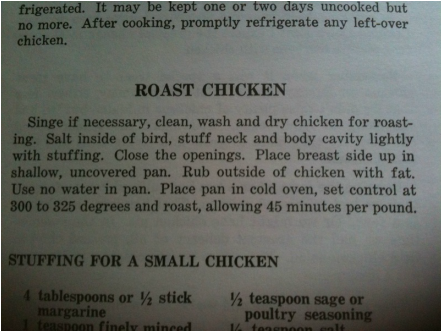 Note that it is, basically, "put the chicken in the oven."

Here is the chicken. Note that it does not need to be singed. Singing a chicken is the process of burning off any teeny lingering feathers. If you caught and killed your chicken yourself, it would need to be singed. For these purposes, the good people at Perdue have done it for us.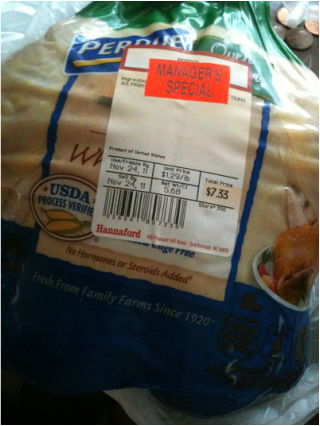 Here is the chicken in the pan, coated with fat (olive oil) and seasonings (Trader Joe's Everyday Seasoning).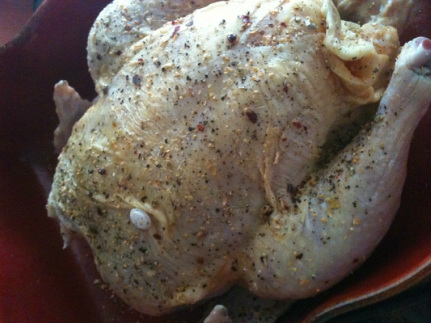 In an effort to reduce sodium, I like Trader Joe's Seasonings.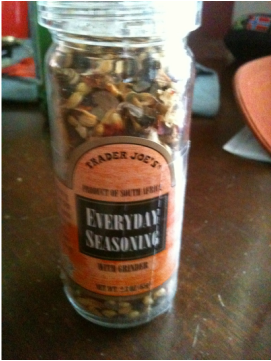 Into the oven for a couple hours until your house smells fantastic, and here is the finished product.
While I appreciate the delicate flavors of brining, marinating, infusing, stuffing, and deep-frying, sometimes it's a good exercise to just bring things back to their simplest form. Chicken in oven, in this case. Chicken in the oven-it's that easy.

Marjorie would have respected that, I suspect.

Challenge: In this hectic ramp-up to the holiday season, when expectations and stress levels are high, what one thing can you let go? What one thing, when looking back in ten years, just won't be all that important?