My mother makes the best lemon meringue pies. These are lemon pies of legend, not in any way resembling the overly sweet variety in the frozen food section of the grocery store or typically in a diner's cooler. It wasn't until recently that I compared her long-beloved recipe to Marjorie Standish's recipe found it was almost exactly the same.

So today I present Mom's, er, Marjorie's recipe for Lemon Meringue Pie.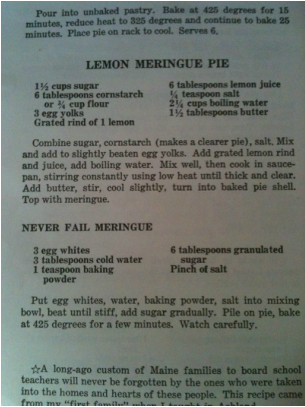 First, grate the rind from three lemons. I love my Microplane, but you can use a zester or even a box grater. Marjorie calls for one lemon's worth, but Mom recommends using all three lemons.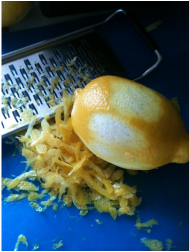 Next squeeze a half cup of lemon juice from the freshly grated lemons. (Between one and two lemons, depending on their juiciness.)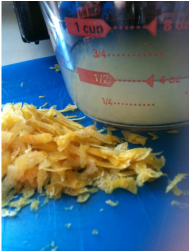 Cornstarch and sugar into the pan. Heat it up to boiling, stirring constantly with a whisk, so the bottom doesn't clump or burn.
Boil and stir for one minute, until it is super thick. Add the juice, butter, and lemon rind. (Tip: I don't use egg yolks, and I've never noticed a difference in flavor or consistency.)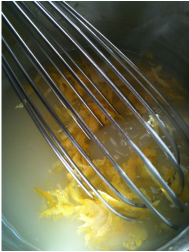 A few drops of yellow color. Again, not necessary, but I like the effect.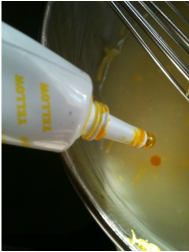 Into a prepared pie crust.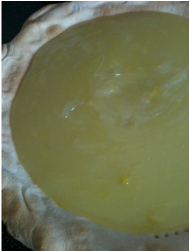 And now the meringue. People stress out about meringues, but it's a pretty easy concept. Don't use a plastic dish and if you can, use a cold bowl. I figure if people were making meringues well before the advent of electric mixers, how complicated could it really be? Egg whites into a dish and find the electric mixer.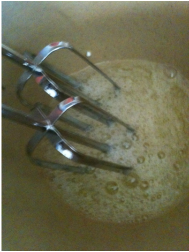 Beat the egg whites, cream of tartar (just a pinch instead of baking powder--another substitution from Mom), and sugar until stiff peaks form. What are stiff peaks? See below. When the eggs whites form little peaks as you pull up the mixer.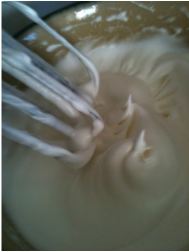 Plop onto the lemon pie and bake!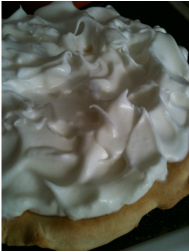 I would show a slice of the pie, but it is being packed up for delivery as part of my Dad's birthday celebration tonight. But trust me, it is the perfect lemon pie--tart and refreshing. Go ahead, try making it! It's easy!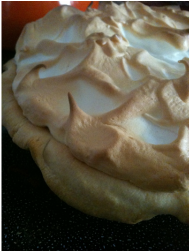 Challenge: Like baking a meringue or Kinky Friedman's assessment of governing Texas ("How hard could it be?), what is one thing in your life that people perceive as more difficult than it really is?