Winter is all about comfort food, and one of the most comforting treats are molasses cookies.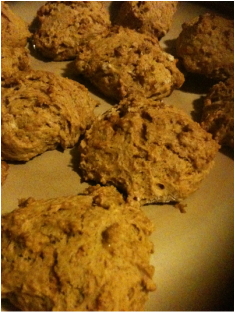 They come in all manner of style, and I promise a prize to the first person who can find me a box of the hard Pantry variety (were they Canadian?) that came in red cardboard packaging with cellophane, stacked up on their sides. My mother used to spread cream cheese on them, and while I'm not a cream cheese fan, I love the snap and ginger-filled taste of those cookies.

Marjorie's drop cookies are not Pantry cookies. Not at all. Marjorie's drop cookies are all about soft molasses flavor and making your kitchen smell fabulous.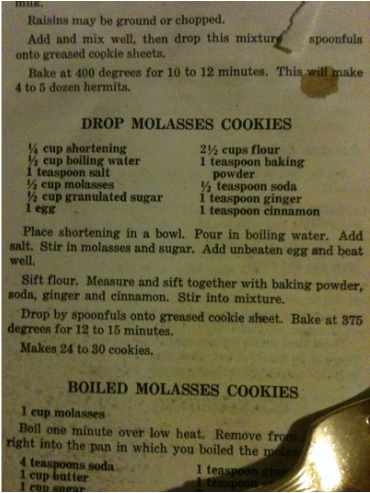 The recipe is easy. One bowl, one spoon. Note the stains on the cook book page. I've used this recipe many, many times. The cookies freeze and travel very, very well.

Ingredients in a bowl.

Note: I learned this trick. Spray the inside of the measuring cup with Pam before you measure molasses, and the molasses won't stick. Every bit of it pours out. I tried to take a photo, but it's harder to capture than it might seem. Trust me though.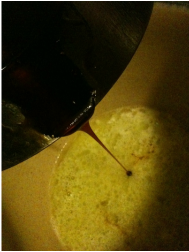 Mix it all up.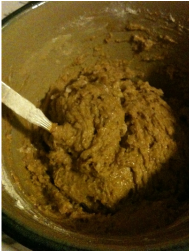 Spoon onto greased cookie sheet. Bake. And then the magic happens.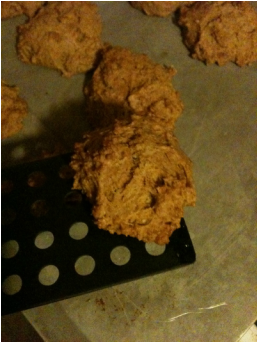 Challenge: What foods from your childhood are either no longer available, or do you wish you could locate?