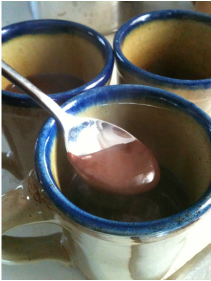 Technically, this is Marjorie's recipe for cream puff filling. I substituted corn starch for the flour, added cocoa, and omitted the eggs, too. Let me explain.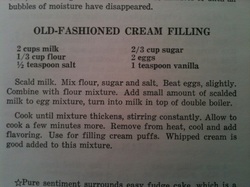 I was craving chocolate pudding, and not the bland-tasting cups in the grocery store dairy freezer, and it had also been a while since I consulted the Marjorie cookbook. Sadly, Marjorie does not offer a recipe for straight-up chocolate pudding, but since I am skilled at improvisation, I punted.

Raw or tempered eggs in recipes skeeve me out. There's no rationale for this, other than the ingrained brownie batter fear from my mother. As a child wanting to lick the batter bowl, I was told "you'll get worms from the raw eggs." I took this warning to heart, even though I am pretty sure no person was ever overrun by legions of tiny worms after licking raw batter from a finger.

However, the image stuck and so did that fear. So, no raw eggs for me.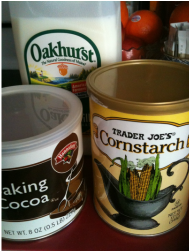 The rest of the ingredients are remarkably simple. Milk, sugar, cornstarch, and cocoa. Marjorie's recipe makes a vanilla filling, but it's easy enough to alter with 1/3 cup of cocoa. I prefer cornstarch to flour as a thickener, so I substituted that, too.

Into a pan, stir, heat.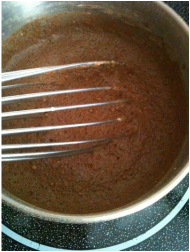 When it boils, it gets creamy and smooth. Note the steam. Mmm.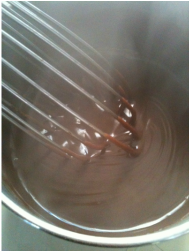 Into little bowls or cups. (Another plug for Monroe Salt Works here. I love, love, love their products.) And then, into the fridge to cool and set up.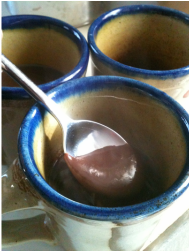 And the best thing about this recipe? You get to lick the pan without fear of contracting worms.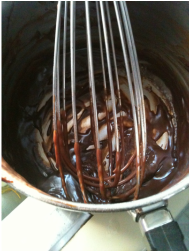 Challenge: What irrational childhood beliefs still linger in your adult life? How do you manage them?