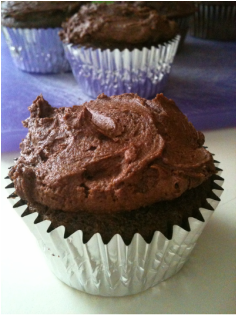 Last weekend I was called "Straight out of Rumford with less food knowledge than a Bolivian sloth."
It's okay to laugh. I did.
Why? Because I don't mind if a restaurant serves frozen spinach. I also don't mind a cheap wine list if the flavors harmonize well with the food. I understand the principles of fine dining, but I don't get hung up on them. Einstein said that if you judge a fish by its ability to climb a tree, it will forever think it is stupid. It's the same with dining. A four star hot dog is still four stars, y'know?
All this to note that I consider myself a decent home cook. I am not a professional like my friend Carrie at
Fields of Cake
, but I do okay in my kitchen. Marjorie did okay, too. While neither of us are baking up Carrie's exquisite creations (for real,
she makes these
), here is Marjorie's recipe for chocolate cake.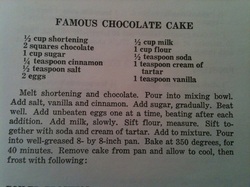 Because there are just two of us in my house, I halved the recipe. Ingredients in bowl. (I use butter, not shortening.)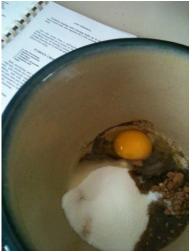 Mix into batter. (Resist the urge to lick the beaters, as this will give you a debilitating case of worms. So I am told.)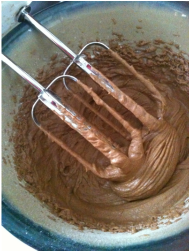 Batter into cupcake pan.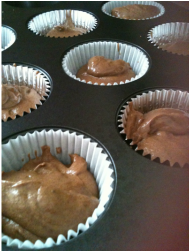 Out of the oven, onto the counter to cool.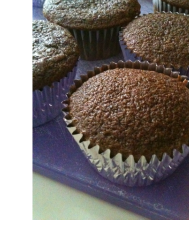 I frosted them with a simple buttercream. No real recipe, but approximately a half stick of soft butter, powdered sugar (maybe a cup or two?), a few spoons of cocoa, vanilla, and enough milk to create the right consistency. Beat until smooth. Frost.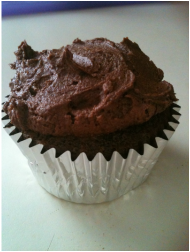 Enjoy!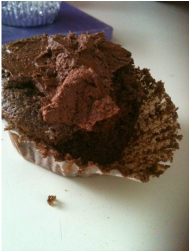 Challenge: Remember a moment when somebody said something hurtful to you. If that person was a character in your novel, how would you write the scene?