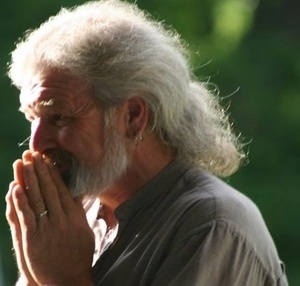 Maine's arts culture, especially Maine's writing community, makes me proud.

With our inspiring natural landscapes and position in nature that facilitates a deep winter introspection alongside a wild appreciation of long summer days, Maine is a good place for creativity. Because we are small, it also would be impossible to attend a writing event and not know someone who knows someone you know. Kooky, arrogant, self-deprecating, or shy--it does not matter because all are welcome at the table. Genre crossover happens, too. Poets meet at live music venues with fiction writers in the audience, and the atmosphere always says "We're in this together."
We are in this together, so when we lose one of our community members--one of our
universally beloved
community members, it hurts. It hurts bad.
Michael Macklin

Michael Macklin
died last weekend. The late poet. Michael is dead. Those words are hard to type, and even harder to process.
When I think of how to describe Michael to a person who did not know him, I get tripped up with the details. He carried a backpack full of books. He worked in the maintenance department of a posh private school. He taught poetry to students. He wrote poems. He drove a truck. He rediated energy and light. His dog's name is Murphy. He wore a beret. But, "truck driving janitor poet" does not sound right. "Dog-loving teacher who wears a beret," equally wrong.
I get tripped up with details for a few reasons. One, there are never good words when someone dies. There just aren't. Two, my interactions with Michael were surface--or, as surface as they could be with a light-filled man prone to hold long, thoughtful, poetic conversations when most people would answer "fine, just fine." We worked together, and he was a fan of my husband.
And three, the idea of describing Michael to someone who did not know him is silly because everybody in our Maine writing world knows him. He is Michael, and that became evident at the memorial service. His family was kind enough to open the services for the public, and as the Waynflete auditorium filled to capacity, I watched decades of Michael's private life projected onto a screen. Michael with a mullet, Michael with an Afro, Michael carrying his baby son in a backpack, Michael kissing his wife. Students sang songs, read poems, and friend after friend spoke passionately about Michael's impact. Michael's words were read, as well as words inspired by Michael.
It was beautiful. I brought extra tissues. I held a friend's hand.
Michael turned up to events, he wrote elegant words, he fixed things, and he listened. Michael once told me the best writers want to listen, not just want to be heard. He is absolutely right. Michael (one of those best writers) listened, and in the act of listening, his own words were made even more meaningful.
If we are fortunate enough to feel a tug on the sleeve or a shiver in the heart; if something particular calls to you; listen carefully. Find a quiet corner and have a conversation with yourself. If your direction is driven by passion, prepare to be consumed. Pursuing a passion may demand struggle or sacrifice, but finding work that gives your life meaning adds meaning to the world as well. It helps us to be of use. -Michael Macklin

If you knew Michael, you loved him. If you never met Michael, that is maybe the saddest part.
But if you did know Michael, and you want to show that love in verse, The Cafe Review is dedicating an issue to Michael. Submission information, along with a moving note from Steve Luttrell, Michael's partner in poetry, is
available here.
In the meantime, here is a toast delivered by Travis.
Challenge: If you were writing your obituary or planning your memorial service, what would people say about you and your life's work?