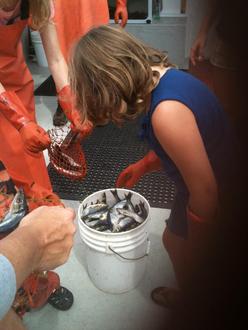 My niece's instinct, when faced with a bucket of dead fish, was to reach right in. First with gloves, and then bare-fisted.
Okay, the Marjorie Standish blog project was a good idea--in theory. Building on the success of my "365 Days of 37" that had me posting a position of strength and gratitude each day on Facebook, I thought I would spend 38 blogging my way through Marjorie Standish's Cooking Down East.

Except, most of the recipes--however iconic--were not food I wanted to eat. That was a problem. Shrimp Wriggle and Tomato Aspic seemed terrific from a literary perspective, but I found myself dreading the preparation process. (And where do you even buy Accent seasoning?)

When I got a gig writing food for an audience at the Maine Sunday Telegram (and for pay), that shifted my food interest and took more of my time. When I took a job at Thomas College, that took more of my time. And then when I continued to accept on interesting writing projects for a select few clients, or teach an occasional adult education class, or offer a lecture--my time diminished even more. Add in a new book project, a few essay drafts, and, well, there you go.

Lack of time + lack of interest = a languishing blog project.

So, for 39, I am shifting back into micro-blogging. 365 Days of 39 with a twist. I will embrace Twitter, and I will do more reflecting. Not necessarily in that order.

I recently hosted my niece for a weekend visit, and we joined a lobster boat for an afternoon. She'd just turned 8 years old, and I watched her embrace the experience of baiting, setting, and pulling traps. When presented with a bucket of dead fish, she reached in, first with gloves and then bare-fisted, happy to be part of the process.

There's a metaphor there. My teen years were uncertain. My twenties, chaotic. I hit my stride in my 30s, and rather than dread the impending fourth decade, I want to celebrate where I've been and the life I've structured. That's this year's project. I want to reach in, dead fish and all.

Countdown to 40. Starting tomorrow. I hope you will follow me @shonnaleigh on Twitter.