I've always been a fan of "It's a Wonderful Life." For me, the idea of seeing a world without my impact is a powerful reminder of the value in an individual. Call it a butterfly or ripple effect, life gestures are mostly tiny-but the effects, mostly massive. It's the same way with writing, too. I can put out my best effort into an essay or a book and hope that a reader is moved, but apart from the online reviews (and spiteful anonymous commentary), there is no good way to gauge impact.

This is especially true with teaching. While visiting my hometown at Christmas, maybe 10 years ago, I started thinking about a former high school teacher and the impact of this teacher on my interests and career path. So, I wrote him a thank you letter. By this time, I was a decade past graduation, and I had no idea if he would remember me. Turns out, he did. And, turns out that upon receipt, my letter made his (particularly difficult) day. At least, that's what he later told me.

When I returned home yesterday, after my own particularly difficult day, I opened a package that contained a gorgeous, ruffled silk scarf in the Fall colors I love. But even more meaningful, was this handwritten thank you card tucked inside. It was from a former student.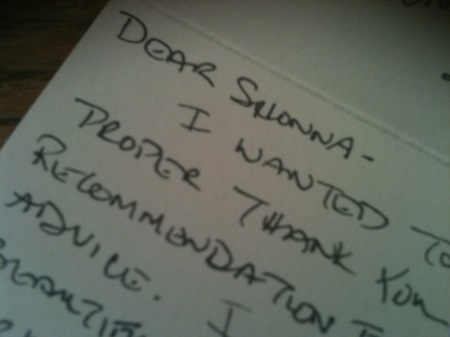 While it was an entirely unnecessary gesture, I felt happy for the rest of the evening and woke up happy, too. She's a terrific writer, and I predict good things for her work. If I had some small role in her writing life, that pleases me.

But, it pleases me even more that she let me know.

Challenge: Hand-write a thank you note. See what happens.