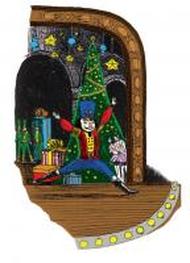 That is such a loaded question, and the answer contains a very non-glamorous list:

-Grant proposals.
-Personal checks.
-Shopping lists.
-Student feedback.
-Rough drafts.

And then, there is this short essay from the December issue of Down East magazine about taking my niece to The Nutcracker at Portland's Merrill Auditorium.

Setting the Stage

Many thanks to my sister for letting me share her awesome kiddos.