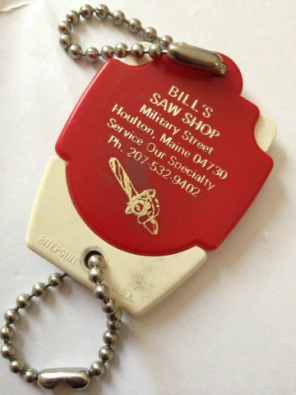 It's been a few weeks, and I am still thinking about a kind gesture. A friend had been poking through an estate sale and found this, a promotional key chain advertising my father's business, circa 1976. She mailed it to me, and when it fell from the envelope into my lap, I was surprised at the aspects I noticed.

In addition to learning that Ritepoint was a US-based company, I also remembered the difficulty of breaking apart the keychain's two pieces. I was maybe 3 or 4 years old, and I lacked the finger power to press the pieces apart. I'd picked one from the box on the shop countertop, and the pieces were too stiff for my tiny hands.

I remember feeling very frustrated.

Now, I can easily detach the pieces, and as I fiddled with the two sections in my living room, snapping them together and pulling them apart, it seemed very strange to suddenly have a clear memory where moments before, there was none. But, there it was. I recalled the shop's interior--the smell of oil and the clutter of small engine parts. I remembered balancing on my knees atop a stool, and I remembered reaching for the keychains in the box. Someone, likely my mother or father, showed me how the key chain worked, but despite my best efforts, I recall the tears at not being able to do it myself.

There's a lesson here. Several, actually.

1) A random kindness can significantly alter a person's perspective.
2) Memory is a spongy, flexible thing.
3) Frustration has a way of resolving itself with time.

Challenge: Think of something unexpected and kind to do for someone. Do it. See what happens.