Weary Hearted Hollow Moon
is a phrase lifted from "
Adam's Curse
," by William Butler Yeats.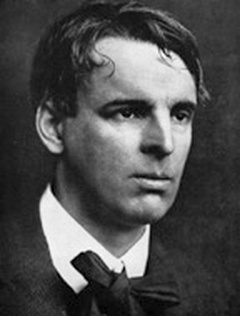 Sort of.
I rearranged the words a little bit.
I've been reading Yeats lately.
He is, hands down, the dead broody Irish poet I'd choose to sleep with if given the opportunity.
He's also the inspiration for 2013's title, if I could give 2013 a title.
2013 was a rough year.
I felt weary and hollow-hearted, and I stared at the moon for much of the time.
We lost four pets—two dogs and two cats. Trav faced some big demons in a very
brave and public way
, and while the result has been good, the ripple effect is still messy, and I am angry about that.
I didn't write enough.
I didn't move my body enough.
I missed my nephew's birth by 5 minutes, and even though—as with his older brother and sister, I spent those first few hours in the hospital awake and staring at the wonder of him, I feel guilt for my late arrival. My basement pipe cracked, and my washing machine broke.
Both vehicles needed new sets of tires. I spent too much time dicking around online.
I'm fatter than I was last year. I broke a toe.
But then, there's the good, and good always wins.
I'm an auntie to three children now!
I bought new kitchen flooring.
Brendan painted my house.
Erin began landscaping my yard.
I spent almost every Saturday morning, from May to October, yard saling.
(Among my finds, a $6 Pottery Barn quilt, $2 for three Monroe Saltworks pieces, and $1 window treatments.)
Anne visited, and we spent a good few days appreciating Maine's beauty.
I showed my niece the Farmer's Market, and we watched a family of ducklings while we ate fresh strawberries from the carton.
I slow-danced with my husband at a friend's mountaintop wedding reception and celebrated 40 years of life by choosing a Toller (mix) pup over a Chinese baby. There was a road trip to DC to witness another wedding, walk the monuments, and eat pie.
The lady at Art's Nails gave me excellent pedicures and painted my toenails shades that ranged from coral to candy apple.
I taught six courses and hope my students feel better equipped to express themselves with words.
I learned to shuck oysters and make miso soup, too.
It was my privilege to participate in a carpool for a Burundian refugee as he worked to assimilate in the United States, establish himself, and make a life for his family's eventual arrival.
Bret and Jeff hosted a Liberace movie screening that was made even more special by the paper dolls sent by Ruth from Australia. I also tasted a vintage absinthe cocktail, and I finished watching all the James Bond movies in order of production.
The Supreme Court's position is that marriage equality is a good thing.
My sister, niece, and I took a whirlwind field trip to Boston.
I wrote many essays about food and discovered that I don't much enjoy writing essays about food.
I read my creative work for an audience, and I confirmed that I also don't generally enjoy reading my creative work for an audience.
I filled a jelly jar with sea glass, and I watched my niece perform in her first play.
Also, my breasts are healthy and cancer-free.
Let me repeat that one:
My breasts are healthy and cancer-free
.
The good wins.
It might take daily medication, regular therapy, a commitment to positive thinking, and a lifestyle structured with organizing principles of family, friends, and community—but good wins.
It has to.
When lined up in two columns, the good side is longer and more detailed.
The good side is more enduring and more robust.
Darkness is a fact, but the light always returns.
On this New Year's Eve, 2014 feels like it will be a good year, and much smoother than 2013.
I have plans, Travis has plans, and I suspect those plans will yield creative, positive things.
I have hope.
"Hope and Memory have one daughter and her name is Art, and she has built her dwelling far from the desperate field where men hang out their garments upon forked boughs to be banners of battle. O beloved daughter of Hope and Memory, be with me for a while."
That's Yeats, too.