Long explanation. Bear with me.
I have resurrected this blog for what I believe is a good and noble purpose, but bear with me, as this will run long. It's not edited, IS rambling, and is a product of a revelation and a long night of feeling very, very powerless. Phrases like "cease and desist" are a little scary, so I will also stick to factual statements.
Here is how it went down.
Context
You all know that Trav spent 30 months at the American Boychoir School from 1988-90 afraid to sleep because of the sex abuse he saw, heard, feared, or experienced at the staff, teacher, trustee, and student levels. When Trav chose this public approach, I initially wrote about it
here, for The Atlantic
. He began drinking coffee at age 11 to stay awake at night.
So imagine our family's reaction when we learned about "Boychoir," the film.
We learned A LOT about it.
Sample Praise
9/20/2014
Variety
"thanks to the exceptional musical
talents of the American Boychoir School
"
9/5/2014
The Hollywood Reporter
"Yet somehow the school principal (Winger) recognizes his genius for singing (there's no indication how) and
arranges for the touring American Boychoi
r to visit their poor Texas school, with an eye to getting him an audition at the elite East Coast institution."
9/6/2014
The Telegraph
"Stet's estranged father (Josh Lucas) has his own family, so a proactive Texan headmistress (Debra Winger) suggests
they pack him off to the American Boychoir School in New Jersey
, where his sonorous treble voice can be honed."
3/4/2014
NJ.com
"A turn of events worthy of a Hollywood fairy tale will
transform the American Boychoir School and one of its young students into movie stars
by late fall.
The renowned music school for fourth- to eighth-grade boys is the inspiration for "Boychoir," an independent film starring Oscar winners Dustin Hoffman and Kathy Bates and written by Lawrence-raised Ben Ripley, who is said to have a friend who attended the school.
Scheduled for release later this year, the music-themed, "feel-good" drama will feature...members of the
American Boychoir; and Fernando Malvar-Ruiz, a Lawrence resident who serves as Litton-Lodal music director of the American Boychoir and will be music director of the movie
."
2/24/2014
Chorus America
"
The world-renowned American Boychoir, based in Princeton, New Jersey, will be the feature of the movie "Boychoir,
" starring Academy Award®-winner Dustin Hoffman and directed by François Girard, of the Academy Award®-winning film "The Red Violin." Girard said of the American Boychoir, "These boys' voices soar with this rare, unearthly ability for only a few years of their young lives, then their voices transform, a gift seemingly lost," Girard told Variety."
10/25/2014
The Morning Call
"The American Boychoir is traveling pretty fast these days, if not at the speed of light, than at least at the speed of stars — stars such as Dustin Hoffman and Kathy Bates. They are the leading luminaries in the film "Boychoir," directed by Academy Award-winning film director Francois Girard, and set for a national release in 2015.
The movie, about a troubled boy from Texas who attends the American Boychoir School in Princeton, N.J., received rave reviews at its Sept. 6 premiere at the Toronto Film Festival.
10/30/2013
The Wrap
"Singers
from the renowned American Boychoir Schoo
l, one of the world's most prestigious boy choirs, will be featured in the film,
​March 14, 2013
NBC Connecticut
"NJ.com reports that
the story was inspired by American Boychoir School
, a school founded in Columbus, Ohio in 1937, which has been located in Princeton, New Jersey since 1950."
Our response
"What's next?" Trav asked. "Penn State: the musical?"
So, I wrote about the experience
here, for Salon
. I also wrote to a group of industry professionals, requesting a conversation about the decision to make a movie that glamorizes an institution with a longstanding reputation for ignoring child sex abuse perpetuated within that institution.
You can read about the history
here
, or
here
, and
most recently from 2014, here
.
It is not news. At one point, the American Boychoir argued that 12 year olds could consent to sex.
That's when I received a cease and desist letter from the film company's legal representation.
Connecting the two entities--the American Boychoir School and the film "Boychoir" was, and I am quoting from the letter, "irrational."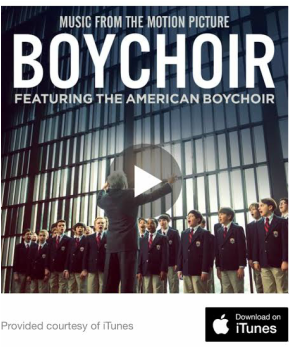 Irrational. Scroll through the (abbreviated) list of public praise listed above one more time, and then let that one sink in.
While the film did well overseas, it experienced limited release in the United States. You can read about it here, "
Boychoir Quietly Dumped.
"
All was well, right?
Except for now. Last night my family learned that
"Hear My Song" will air on CBS
on Saturday, April 16. Does this movie sound familiar? It should.
While I appreciate any re-branding efforts, particularly removing the American Boychoir logos and choral images from the promotional material, this film still
glamorizes
the American Boychoir School. It still acts as a powerful,
powerful recruitment tool
. It
celebrates
an institution that has yet to take responsibility for the victims who spent time in its care.
Feedback
The feedback my family has received has been overwhelmingly supportive and positive, with hundreds of people reaching out to say some version of "me, too" or "thank you."
The exception has been some people affiliated with the American Boychoir School. That general, negative messaging has been some version of, "I'm sorry this happened, but,"
I'm sorry this happened, but:
1) It happened so long ago.
2) It affected a relatively small number of boys.
3) The current students are safe now.
4) Can't you just get over it?
Answering these questions is relatively easy, and Trav and I do so with questions of our own:
1) What is the suggested, exact date for when child rape stops mattering?
2) How many boys must be raped for it to concern you? Alumni estimate 1 in 5, well into the 1990s.
3) Are they? Trav's parents believed that, too. But, again, how does any of this impact resources for the
actual victims
?
4) No.
Those questions also miss the point. The real question is, "How has the American Boychoir School addressed the victims of sexual violence perpetuated while in their care?"
Right now, they are
planning to watch a movie that celebrates themselves
.
Next Steps
If your reaction, like mine, is "WTF," you can soon read about my response
here on Facebook
.
Seriously, if this was your son or husband, what would you do?
​Families who have a positive experience with the school will celebrate this film.
​My family will not.